The Goldenbergs

Guest Article by Phillip Gowan


SAMUEL LEVI GOLDENBERG (47) Saved


NELLA WIGGINS SONDHEIM GOLDENBERG (43) Saved


Ticket Number 17453
Boarded at Cherbourg
First Class
Returning to New York City

In a scrapbook kept by Nella Goldenberg, the following entry was found for April 10-15, 1912:
"SS Titanic" "
Sailed with S.L.G. on the Titanic. Captain Smith, Commander. The boat was struck by an iceberg when going full steam at 11:45 p.m. on April the 14th.
We got away in a lifeboat, and were picked up 8 hours later by the SS Carpathia. Captain Arthur Rostron commanding.
The Titanic sank forty minutes after being struck.
More than two thirds of her passengers, and almost all the crew were lost."
She then chronicles many more high seas adventures including very bad weather through the Panama Canal that rated more comment than the Titanic sinking. She continued to travel the world until April 18, 1941, when as a 72-year old she sailed on the President Monroe via Havana and the Panama Canal, arriving in San Francisco on May 5th. One wonders if on that day she stepped onto dry land harboring feelings of sadness that all her voyages were in the past—or perhaps radiated pride in the realization of all she had seen and done in a lifetime of adventure.
Her writing reflects a lover of life and travel, frequently commenting on food and service. On one sea voyage her son had given her champaign and chocolates that she opted for over the bad food on the ship. She was a modern woman living a privileged life, but by no means afraid of different peoples and places, sometimes seeming almost fearless. Her only great-granddaughter ventures to say that the Titanic disaster may have just been "a bad day at sea" for her.
The earliest days of the life of Nella Wiggins were tragic. She was born in Florence, Italy of an American father, Alexander M. Wiggins, on February 2, 1869. Her mother, Nella DaSilva, was a native of Florence and already had a small daughter. But baby Nella's delivery was difficult and ultimately resulted in her mother's death just six weeks later. The little girls were left in the care of their maternal grandmother in Italy until Alexander decided to return to America in the early 1880's.
Samuel S. Sondheim was a prosperous Jewish man working in New York City when he met 16-year-old Nella Wiggins. He had been born in Montgomery, Alabama and was in his early thirties. Despite the age difference, and despite the fact that Nella was Catholic, the unlikely couple married in 1885. They moved into the Croisic Apartments at the corner of 26th Street and 5th Avenue where they welcomed daughter Viola Marie in 1886. Son Albert Cecil arrived just a year later. It appears that the marriage was a happy one and Sam Sondheim frequently took the entire family to Europe, thereby allowing Nella to remain close to her Italian relatives. But France was a favorite destination and the children grew up bilingual. In Paris, the Sondheims moved in the social circles of other prosperous American Jews and it was there that Nella was first introduced to Samuel L. Goldenberg, a lace importer and Ashkenazi Jew from Manhattan. He was one of many sympathizers that came to Nella's aid when Sam Sondheim died suddenly of a heart attack while visiting the "Thousand Islands" in the summer of 1900.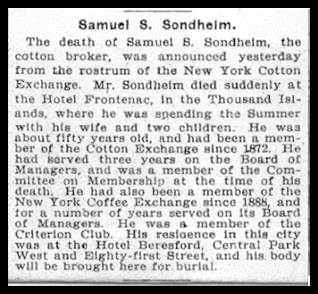 NEW YORK TIMES—29 August 1900

Bereaved and with two teenagers to raise, Nella returned to New York City. Sam Goldenberg did what he could to see her through the various stages of grief and the friendship that began in Paris blossomed into something much stronger. The couple was married in Manhattan on September 3, 1901.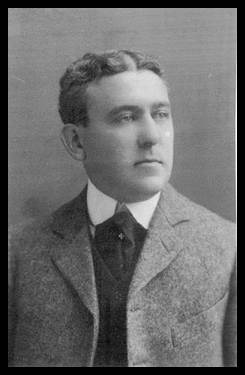 A YOUNG SAM GOLDENBERG—circa 1888
©Phillip Gowan

Samuel Levi Goldenberg was born in Manhattan on September 8, 1864, son of Levi and Sarah Weinberg Goldenberg. Levi had come to New York in 1846 from his native Giessen, Germany. As with so many Jewish immigrants, prosperity had followed quickly and young Sam was afforded many opportunities denied to others of his age. When Levi died on November 29, 1884, Sam's portion of the estate enabled him to start a lace importing business and many voyages to Europe began. Even as a young man he was considered an expert on lace and in 1904 he authored a book entitled "Lace: Its Origin and History."
Both Sam and Nella Goldenberg were dog fanciers and early in their marriage received recognition for raising prize English Toy Spaniels and French Bulldogs. Sam had discovered a dog in France in 1902 that was known by the name Nellcote Gamin and it is this dog that became the modern progenitor of the French Bulldog breed. He was also the founder of the French Bulldog Club in Paris.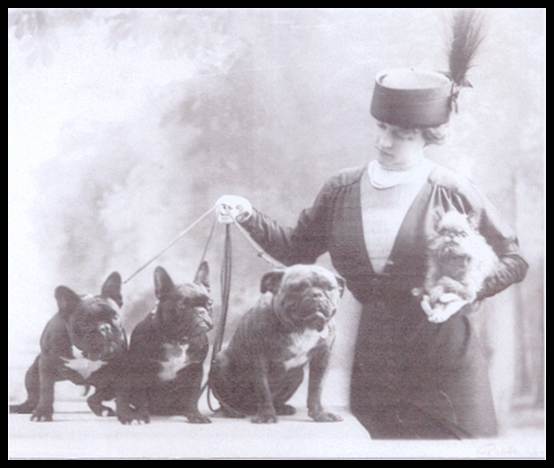 NELLA GOLDENBERG WITH SOME OF HER FRIENDS
©Judy Levy

In 1905 Mr. and Mrs. Goldenberg moved their residence to Paris although they remained citizens of the United States. They returned to New York frequently, always traveling first class. Nella's daughter Viola had married William Irvine Fickling (died 1947) in 1903 but the marriage was annulled in 1904. She remained in the United States while her brother Albert, now spelling his surname "Sondime," also went to Paris.
It was the French Bulldog Club of America's show scheduled for April 20, 1912 that lured Sam and Nella back to New York that year. Sam had agreed to be one of the judges at the event which was to be held at the Waldorf-Astoria. The experienced travelers already knew what it meant to experience luxury on the high seas, and the maiden voyage of Titanic was not to be missed. They boarded as first class passengers in Cherbourg, occupying cabin C-92. On the night of the sinking Nella entered lifeboat 5 while Sam stood back. As there was space available and apparently no one ready to prevent Sam's taking a seat, Nella became agitated, placing her hands on her hips and telling him to either get in the boat or say good-bye to her. He took his seat beside her.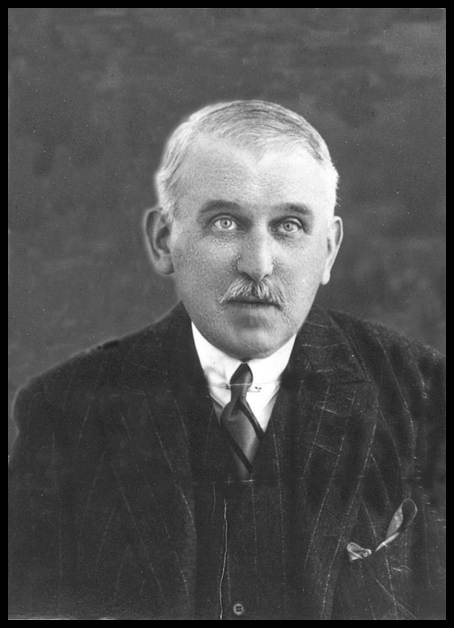 SAMUEL L. GOLDENBERG—1921
Phillip Gowan Collection

After rescue the Goldenbergs arrived in New York and Sam kept his commitment to be a judge at the dog show, never mentioning his ordeal of only 5 days earlier. However, the bitter cold night in an open lifeboat had taken its toll and he soon experienced health problems, including arthritis. Whatever maladies he suffered during the rest of his life, he always believed they stemmed from the hours spent on the North Atlantic.
During World War I, Nella served as a nurse and her son Albert served as a First Lieutenant in the United States Army and in 1917 was transferred to the American Army Sanitary Corps. He was discharged in France in 1919 and went to work for the Banque Nationale Immobiliere in Paris and was to remain in that city for most of his life. Meanwhile, his sister Viola had married George W. Crossman and after the birth of her only daughter, also named Viola, she and her husband had moved to Atlantic City, New Jersey.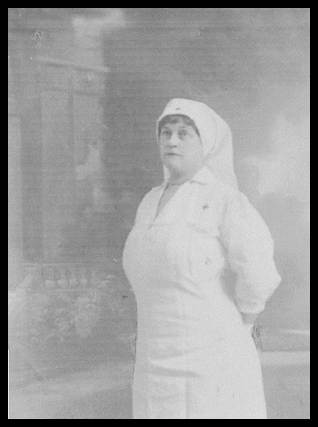 NELLA GOLDENBERG IN NURSE'S UNIFORM—circa 1915
Judith Levy Collection

Nella and Sam Goldenberg lived in Nice, France for years after the Titanic disaster. They continued to sail the seas but as the years passed, Sam's arthritis necessitated the hiring of a private nurse. His trips to the United States were not as frequent as in former days though Nella still made annual pilgrimages to visit her daughter and granddaughter. Apparently Sam's arthritis wasn't serious enough to thwart his beginning an affair with Mme. Mueller, a "pretty French widow" who had been nursing him on the Riviera. After the affair was exposed, Nella herself found a paramour, the "Duc de Choiseul. A nasty divorce ensued and the decree was granted in June of 1923. Sam then married his nurse but the union was shortlived. In the late 1920's he married Baroness Edwige Therese Grabowska, a native of Warsaw, Poland. The third marriage endured until Edwige's death in Nice on November 30, 1935. Samuel L. Goldenberg's interesting and sometimes tumultuous life came to an end shortly after noon on October 11, 1936 as a result of congestive heart failure. He was buried beside Edwige in grave number 18385 in Cimiez Cemetery, Nice, France. At a recent ceremony held at the gravesite, the mayor of Nice, an antisemite, refused to take part.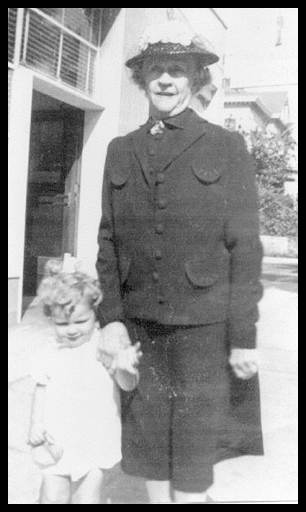 NELLA WITH GREAT-GRANDDAUGHTER JUDITH CHURCH—1943
©Judy Levy

After the Goldenberg divorce, Nella legally changed her surname to DaSilva, stating in her petition that she could not bear to use the surname that Sam's new wife would be using. From that time forward Sam's name was never spoken within the family. In any conversation that related to him, he was simply referred to as "S.L.G." Nella did not marry the Duc de Choiseul and remained single the rest of her life. She continued to travel extensively and her son's business acumen provided him with a fortune that helped to sustain his mother's passions as long as she was in good health. In her last years she lived in a small suite in the Hotel Durant in Berkeley, California. She enjoyed spending time with her great-grandchildren and was affectionately known as "Mimi." Bronchopneumonia claimed her life on October 9, 1947 and she was buried in Mt. View Cemetery. The woman who traveled the world, survived Titanic, dated a duke, and lived life to the fullest rests there in an unmarked grave. Just beyond Nella's gravesite is a stunning view of the Pacific Ocean which she would have loved.
Nella's daughter, Viola Crossman, lived a relatively quiet life compared to her mother and brother. She eventually settled in California and enjoyed baby sitting at her home in Alameda County. An accidental fall in her home resulted in a broken hip and she was hospitalized until pneumonia took her life on May 22, 1961. She is buried in the Chapel of the Chimes Cemetery in Hayward, CA.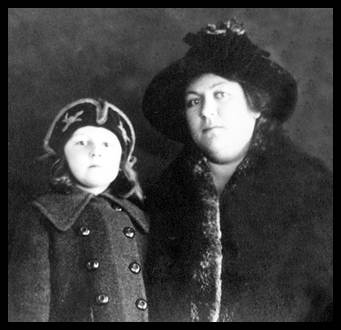 THE TWO VIOLA MARIE CROSSMANS
Phillip Gowan Collection

Albert Cecil Sondime married Manley (Renee) Frank in 1932 and the couple maintained a home in Paris although Albert always retained his United States citizenship. They had no children but lived a privileged life and traveled extensively. After Renee's death in July of 1973, he continued to enjoy robust health and made a final trip to New York in 1975 at the age of 88. He died in Paris in November of 1986 at the age of 99.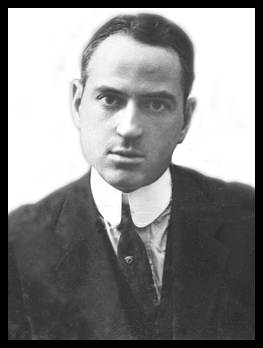 ALBERT CECIL SONDIME
Phillip Gowan Collection